New single head industrial embroidery machines for sale
Description du produit
New single head industrial embroidery machines for sale machines embroidery
We are HeFeng computerized embroidery machines limited, which a leading manufacturer of embroidery machines in China, with more than 12 years work experience.
We can make different specification embroidery machine according to client`s requirement.
The running speed can be 1000rpm, 1200rpm and 1500rpm.
Welcome to send inquiry to us. We will offer you the best.
Looking for agent from all over the world.
Model Needle No. Head No. Embroidery Area (mm) Speed (rpm) Size (L*W)
| | | | | | |
| --- | --- | --- | --- | --- | --- |
| HFIII-C1201 | 9/12/15 | 1 | 600*400 | 350-1200 | 1000*1000 |
| HFIII-C1201 | 9/12/15 | 1 | 1200*400 | 350-1000 | 1000*1000 |
Specification:
1. Dahao 285, 8" Touch Screen system.
2. Dahao servo Motor.
3. Auto Trimming, Auto Color Change And Start Up.
4. Automatic Thread Breaks Detection (Both Bobbin And Upper Threads)
5. Stitch length: 0.1-12.7 mm
6. Storage capacity: 16,000,000 stitches and 400 designs
7. Multi-language operating interface (English, Spanish, Portuguese, French, Turkish)
8. Rotary hook: Original made in Japan
9. Accessories & equipment: As per our standard spare parts list
Dahao 285 System

Multi function for ready made garment, cap and fabric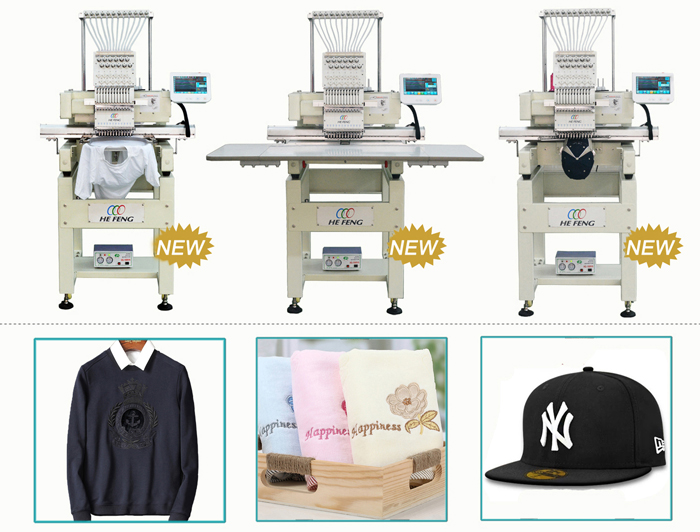 Embroidery On Ready Made Cap
The Cap Frames Will Be Provided

2*Cap Rings Per Head That Snap

1*Cap Driver Per Head That Snap 1*Hoop Station Per Machine For Easy
Into Cap Station For Preparation Into Embroidery Machine`s Bracket Snap In & Snap Out Preparation
And Then Embroidery Holder For Hoops.

Of Caps
Embroidery On Ready Made T-shirt
The T-shirt Frames Will Be Provided

2 Round Hoops 9cm 2 Round Hoops 12cm 2 Round Hoops 15cm

2 Round Hoops 19cm 2 Square Hoops 29.6*29.6cm
FAQ Hot Questions
Q: Is this a trustable long-term strategic partner?
A: Just ask our customers, view our company profile, assessment of capability, factory glimpse, and the honor we had. And why not contact us or pay a visit to us?
Q: What service will I get with this buying?
A: Simply at your service: available consultancy before sales, easy communication during sales, easy payment term, smooth and safe delivery of guaranteed quality, and assured timely services after sales.
Q: What kind of embroidery work and embroidery machine do I need?
A: Think: ready-made garment/cap/hat, or garment before sewing, or just flat fabric?
Normal flat stitch, or special chenille/chain/loop stitch, or sequin/paillette, or cord/tape/ribbon to add value to your embroidery?
Q: How many heads do I need and what embroidery area on each head?
A: Think: how big is your factory and how much is your expected production?
The embroidery area on each head depends on the maximum area of your embroidery design to run.
Q: How many stitches do I get per minute (SPM) on each head?
A: Super high speed model gives max. 1500SPM,
High speed model gives max. 1200SPM,
Normal speed model gives max. 1000SPM,
Lower speed model gives max.850SPM.
Q: Do I need the Elite model or economy model?
A: Think: How much would you pay for a machine? What we offer is what you need!
Q: Can I represent and sell HeFeng machines in my market?
A: Welcome to join HeFeng family and grow to be a strong distributor.
Groupes de Produits : Tête simple Machine à broder