Description du produit
xzs nonwoven machine

SSS pp nonwoven machine,nonwoven fabric line,medical materical nonwoven machine,epidemic prevention production Machinery, China Spunbond nonwoven fabric machine, changzhou Xinzhongshun Non-woven Machinery Co., LTD. Independent research and development design has the world advanced level of non-woven machinery, is high output nonwoven machines,medical nonwoven fabric machine,surgical gown nonwoven machine,medical products making First choice for machine and Medical Overaus making machine

SSS Model

Model No




Working Width




Fabric GSM




Power Input




Annual Output




Consumption




1600SSS

1600MM




9-250

600KVA

4000T

300KW

2400SSS

2400MM

9-250




800

KVA

6000T

400KW

3200SSS

3200MM

9-250




1000

KVA

8000T

600KW
SSS PP Spunbond Non woven Fabric Making Machine Production Line
This polypropylene (PP) spunbonded nonwoven fabric production line has advantages of superior permance ,beautiful color and good quality.
Our production line is more reasonable in design and operation after practices for many years and improvements by our company.It can also add recycled material and stuffing to reduce the cost of products.
High processed products from PP spunbonded nonwoven fabric is widely used in suit cover, knitwear cover ,garderobe cover,table cloth,other products include pillow slip,bedspread,car cover,cover for quilt,computer,air conditioner and fan cover etc.It also used in suit clad and linning ,shoes lapping cloth,shoes bag,shoes cover etc.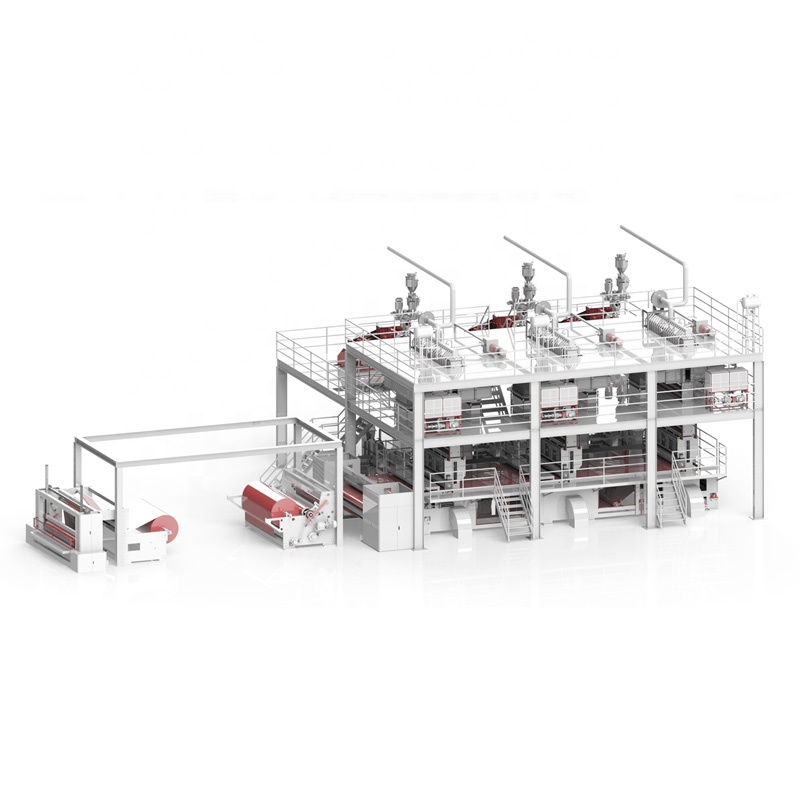 2.The Main Applications Of Spunbond Nonwovens
Non-woven packaging products
Shopping bags, rice packaging, tea bags, clothing packaging, etc.
Non-woven hygiene products
Baby and adult diapers: topsheet, backsheet, ears, tape, landing area;
Feminine hygiene: top sheet, wings;
Cleaning wipes: baby care, cosmetics, etc.
Non-woven medical products
Surgical caps, surgical masks, disposable clothes, surgical drapes, surgical sheets, shoe covers, etc.
Non-woven technology products
Geotextile: anti-corrosion, filtration, reinforcement, drainage, isolation layer, embankment fortification, etc.
Embankment and farm structural engineering: asphalt support, roof insulation panels, clapboards Agriculture: forced crops
Automobiles, interior panels, sound insulation materials, heat insulation materials, etc.
Non-woven furniture products
Beds: pocket springs, mattresses, cushions, bedspreads, treated bedding
Seat: upholstered backrest, sub-panel, middle layer, etc.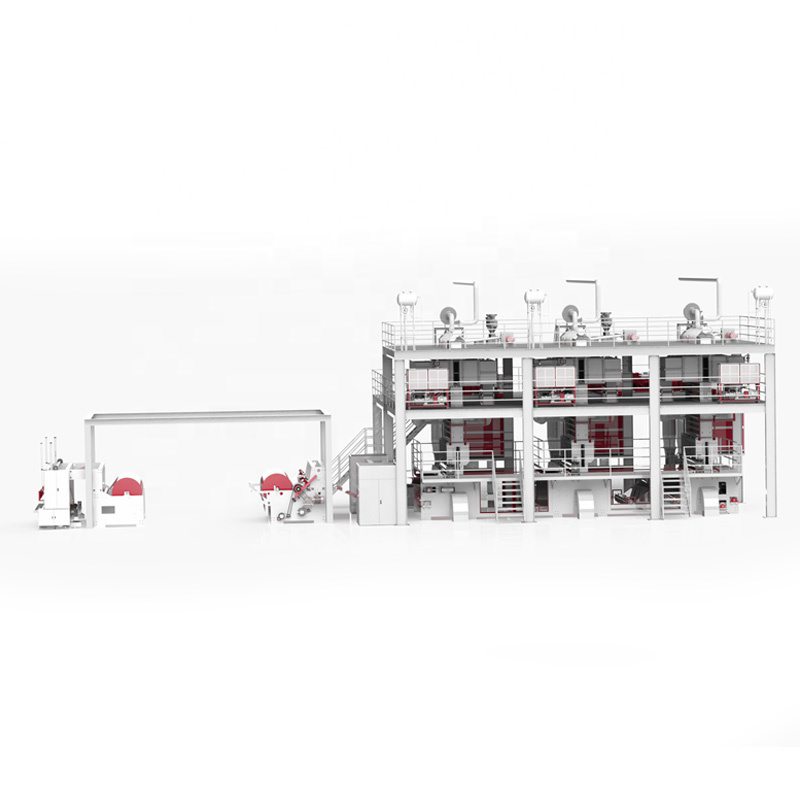 3.FEATURES
Dosing & metering system
Vacuum suction or blower feeding system. Gravimetric metering system with precise accuracy. Automatic alarm for high and lowposition limit.
Spinning beam
Single coat-hanger melt distribution, manufactured by 4-coordinates CNC, grinding by manual.
Quenching chamber
Several layers multistep honey plates with different size holes. Quenching air distribution is uniform and easier for dismountingand cleaning.
Stretching channel
Inside wall is made of polished stainless steel, top and bottom stretching channels can adjust slot width at the same time.
Diffusing channel
Channel is made of stainless steel. Special forming process and welding technology guarantee the whole channel is flat and no shape changing.
Convoyeur
Rollers are inspected by dynamic balance to guarantee running in stable situation. Surface of prepressing roller is coated by ceramic, to prevent entanglement. MB system has pneumatic belt protection unit.
Meltblown system
Imported screw blower has been applied to create stretching air. Pressure is constant, Spinning pressure is lower, higher
efficiency and less power consumption.
Electrical control system
The whole machine is controlled by PLC, AC inversion motor for the whole synchronization system, The process parameters and fault can be displayed and alarmed. The whole system is in stable and reliable situation.
4.Applications
Nonwoven lines are designed and manufactured in accordance with individual customer requirements.
their possible area of application therefore is correspondingly wide.
5.Advantages
Efficacité de production
Using the latest production technology, Maximum speed could reach 500M/min
Perfect Quality
Substantially Lower Production costs
Intelligent operating system , which can reduce the accident rate and 70% preparation steps.
6.After-sales Service
The fastest service response time. to provide you with 7*24 hours of non-stop service.
Changzhou Xinzhongshun Nonwoven Machinery Co., Ltd.
Changzhou Xinzhongshun Nonwoven Machinery Co., Ltd. est situé dans la ville de Changzhou, province du Jiangsu. Il s'agit d'un fabricant et d'un exportateur professionnels de tissus non tissés non tissés intégrant le développement, la conception, la fabrication et la formation. La société se concentre sur s, ss, sss et sms. , Smms, ssmms, pet, pla et autres machines de recherche et développement et de fabrication de spunbond, dispose d'une solide équipe de vente et de service après-vente. L'entreprise gagne en compétitivité et en parts de marché grâce à une qualité et un service après-vente fiables.
Nom de la compagnie: Changzhou Xinzhongshun Nonwoven Machinery Co., Ltd.
représentant: Xu Wu
Produit / Service: Machine non tissée , Machine de tissu non tissé pp ss , pp spubond et ligne smms composite soufflé à l'état fondu , Machines de production pour la prévention des épidémies , Machine de tissu non tissé de sms pp , pp sms spubond non-tissé machine maikng seri
Capital: 10,000RMB
Année d'Etablissement: 2005
Volume total annuel des ventes (en millions de US $): Below US$1 Million
Pourcentage des exportations: 1% - 10%
Total volume d'achat annuel (en millions de US $): US$1 Million - US$2.5 Million
Nombre de Lignes de Production: 11
NombrNombre du Personnel de R&e du Personnel de R&D: 5 -10 People
Nombre du Personnel de QC: 5 -10 People
Service d'OEM fourni: yes
Superficie de l'Usine (mètre carré): Below 1,000 square meters
Adresse de l'Usine: Nantong Cotton Machinery Co., Ltd. West Gate
Personne À Contacter: Mr. wuxu
Numéro De Téléphone: 86--13862942024